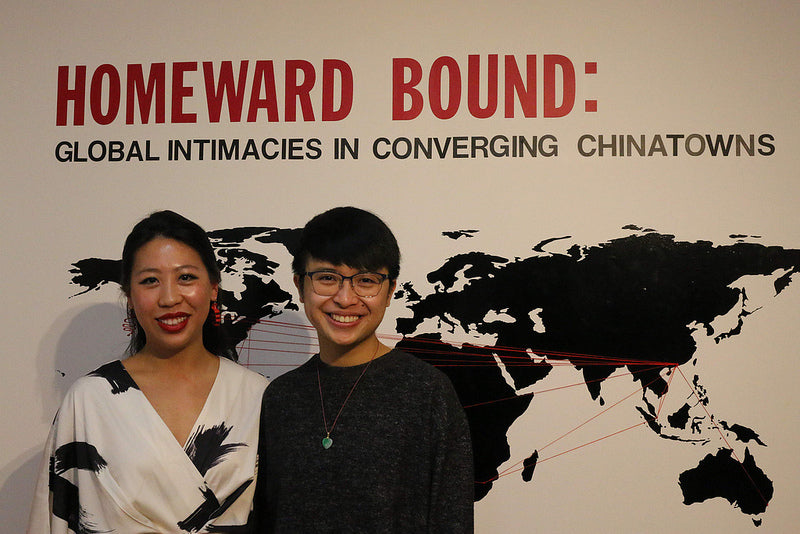 Diane Wong and Huiying B. Chan: Homeward Bound: Global Intimacies in Converging Chinatowns (Nov. 10, 2018–Jan. 25, 2019)
As queer Chinese American scholars, organizers, and artists, Diane Wong and Huiying B. Chan curated this exhibition centering narratives of home, community, and intergenerational resistance. 
Their work drew from four years of ethnographic research and oral history interviews with the Chinese diaspora that spans nine countries and 13 cities, including: New York City, San Francisco, Boston, Los Angeles, Vancouver, Seattle, Lima, Havana, Johannesburg, Guangzhou, Ho Chi Minh City, Singapore, and Sydney.
Using photographs, oral histories, and multimedia archives, they highlighted stories of migration, displacement, and everyday resilience in Chinatowns around the world. For instance, Dorothy Quock, a longtime resident of San Francisco's Chinatown.
An archivist and tour guide for Wok Wiz Chinatown Tours, she lives by the philosophy of "conserve / reuse / recycle." Using only a rice sack and red netting, she created this dress in honor of her father, who worked during the Great Depression delivering 50-pound bags of rice.
This exhibit was the first of its kind to honor, preserve, and build on the history and present day issues of Chinatowns through community-led and curated narratives from residents globally.
Learn more about the artists.