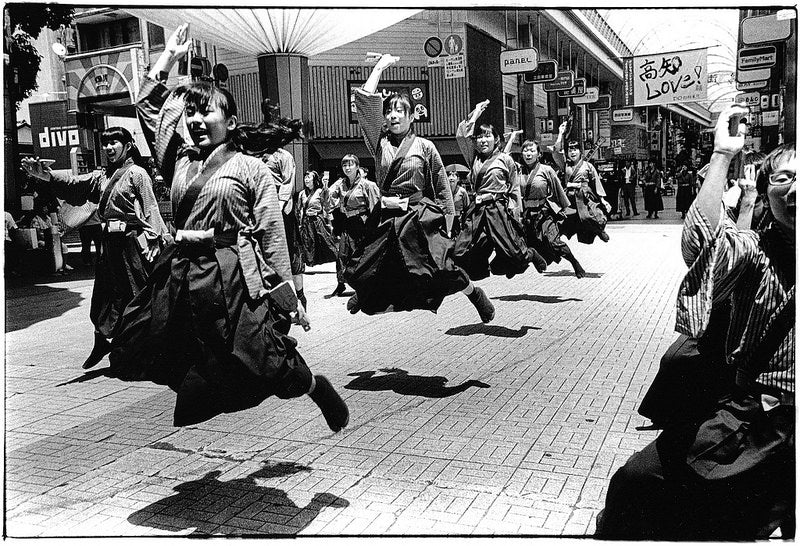 Artist-in-Residence Hiroyuki Ito: A New Yorker in Japan
When New York Times freelance photographer Hiroyuki Ito returned to his native Japan for the first time in almost 20 years, he found himself viewing it as a foreign country. People and practices that were once familiar now seemed strange. So he did what any artist would do: he began to document.
Mr. Ito's exhibition, The Flip Flop Diary: Japan 2011–2018, explores his initial and subsequent returns to Japan, and what he has seen there. From a gleeful child in a lion head to a peaceful woman on a teeming subway to ladies in kimonos in front of a Starbucks, his pictures often juxtapose opposites. Joy and ferocity, calm and chaos, the old and the new.
We had the chance to talk to Mr. Ito about his beginnings as a photographer, what he first found odd about both the U.S. and Japan, and catching the good, the bad, and the beautiful.
How did you first become interested in photography?
I became interested in photography only after I moved to New York in 1992. It was one of the random classes I took during my first semester in college. I didn't know it was going to be such a long-term relationship.
When and how did you decide to pursue photography as a career?
I was a photo major at NYU's Tisch School of Arts. It might sound naive but I wasn't thinking too much about career. I was, and still am, more interested in how to engage myself in the act of taking pictures than how to make money or career out of it.
What made you decide to go to the U.S.?
I was a bum in Tokyo. I didn't do anything for almost five years after graduating from high school. No motivation whatsoever. Then one day, out of blue, my mom suggested that I study abroad in the U.S. Her logic behind it was that if I was not doing well in Japan, there must be something wrong with Japan, not me. I didn't buy her theory but somehow I followed it. Strangely it worked.
You've talked about being a stranger in your own home country when you recently returned to Japan. How did you feel when you first arrived in the U.S.? Was it similar in any way?
I think I fit in naturally when I first arrived in NY. People here are weird and so am I. I met my match.
Do you remember the strangest thing you noticed when you first arrived in the U.S.? If so, what was it?
I first arrived in NY in February. It was freezing. I noticed that people around me kept saying, "Bless you!" and I thought, "Wow, people in this country are so religious! They have to bless people in the middle of their conversation for no reason!" It took me a few weeks to realize there was a connection between this phrase and my sneezing.
How about the strangest thing you noticed when you first returned to Japan?
It might sound bizarre but when I returned to Japan for the first time in 20 years, I would see Japanese people on the street and ask myself, "Are they Japanese?" As I passed them by and heard them speaking in Japanese, I thought, "Okay, they are speaking Japanese, so they must be Japanese. But what the hell are they doing here?" Then it dawned on me that I was not in NY but Tokyo, and what I thought very strange — Japanese people talking in Japanese on the street — was actually the most natural thing in Japan.
How do you decide on your photograph subjects? Is it in the moment or planned?
I hate to visualize the target because then I'm bound to miss it. So I induce myself into the vague mental area where I can take pictures without having a clear goal.
What inspires you? Is there anything specific that's inspiring you now?
Music. Lately I have been listening to Happy End, Bob Dylan,Toru Takemitsu, John Cage, Prefab Sprout, Martha Argerich, Kenny Barron, Laura Nyro, Arsenio Rodriguez, Ryuichi Sakamoto, Louis Armstrong, Horace Andy … I mean, I can go on forever.
What's the hardest thing about photography?
To tell you the truth, taking pictures is the easiest thing in the world. It's like opening your mouth wide toward the sky — whatever is in the air will eventually fall into your mouth. The good, the bad, the ugly and if you are lucky, the beautiful.
The Flip Flop Diary: Japan 2011–2018 is on display in our TriBeCa mezzanine gallery through Feb. 5, 2018. To learn more about Mr. Ito, visit
his website
.