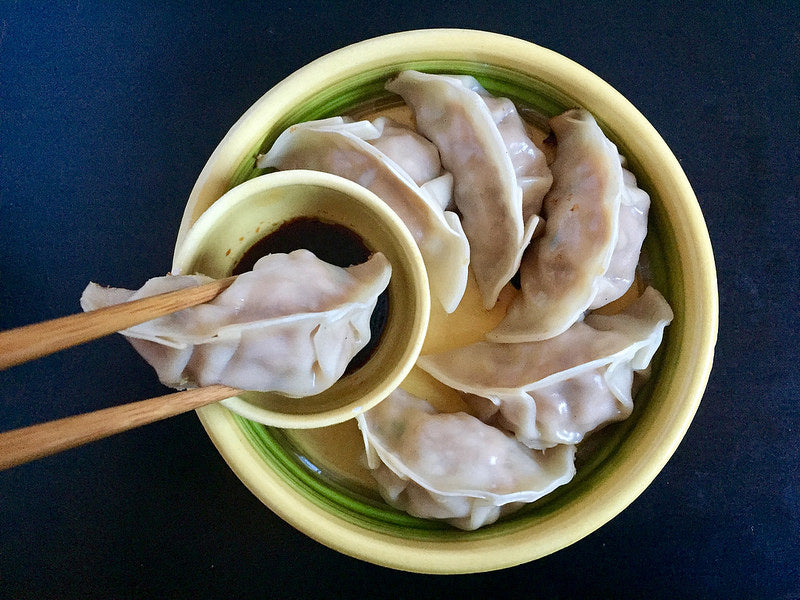 Five Things You Might Not Know about the Delicious Dumpling
Lunar New Year wouldn't be complete without tasty food, and lots of it. There are several things you can eat for good luck, but today we'll be focusing on our favorite: jiaozhi. Here are five things you might not know about this savory treat.
It might come from money — or ears
A couple of legends attempt to explain the origin of the dumpling. One says they're modeled after ingots, a form of currency in ancient China. Another story claims a kindly doctor invented them during the Han Dynasty. In the dead of winter, he saw his townspeople hungry and suffering from chilblains of the ears. He devised the hearty dumpling to keep them full and save their freezing ears. Hence, the name for dumplings at the time, jiao er, or "tender ears."
You might find a dime in one
Dumplings symbolize prosperity, making them central to any Lunar New Year meal. Not only do they look like ingots, the word is a homophone for the term for a 10th-century banknote.
For extra luck, sometimes a coin is thrown into the dumpling mix. Whoever gets the that particular dumpling is destined to have even more financial gain in the New Year (which they hopefully won't have to use to fix a broken tooth). You can also substitute the dime with something less dangerous like a date!
Different stuffings have different meanings
Dumplings can be filled with everything from pork to shrimp to chicken to mutton, as well as vegetables like scallions, spinach, and chives. But did you know certain stuffings has special significance?
Fish. The Chinese word for fish, yu, sounds like the word "abundance," making it a Spring Festival must-have. A fish-filled dumpling, we imagine, will give you even more bang for your buck.
Beef. The bull stands for strength and beef filling for strong financial growth.
Celery and leek. Work hard for your money? These veggies can help. The Chinese words for celery and leek both sound like "industrious wealth."
Mushroom. In Chinese culture, mushrooms symbolize longevity. In fact one particular species, ling zhi, is known as the "mushroom of immortality," although for dumplings you might want to try the shiitake variety.
Cabbage. The humble bai cai (which sounds like "hundred wealth") is a popular good luck symbol in Chinese culture. The Qing Dynasty Jadeite Cabbage is considered one of the Three Treasures of the National Palace Museum in Taipei, Taiwan (the other two are the a Mao Gong Ding and a pork belly sculpture, natch) while giant cabbage sculptures have sprouted in Anyang, Henan province and Liaocheng, Shandong province.
You can thank two dumpling-obsessed friends for the dumpling emoji
When friends Yiying Lu, a designer, and Jennifer 8. Lee, a writer, producer, and entrepreneur, realized there was no dumpling emoji, they made it their mission to create one. Two years later, this delicious symbol along with the fortune cookie, chopsticks, and a Chinese takeout container were officially added to the emoji lexicon.
Dumplings have multiple places in the Guinness Book of World Records
Love dumplings and world records? You're in luck.
Largest cookery lesson. A world record was set in Zhengzhou, China in 2015 when over 6,000 people learned how to make vegetable dumplings.
Largest serving of dumplings. In 2012, A Chang Meat Dumpling Restaurant in Taipei, Taiwan set the record for the biggest serving of dumplings. Weighing in at over 1,500 pounds, this super-hefty helping of pork jiaozhi was so large, it had to be unveiled in a stadium.
Largest dumpling mosaic. The Xiao Heng Dumplings® brand set this record in Beijing just a month ago. Measuring more than 119 square feet, the mosaic was made with over 12,000 dumplings.
Most dumplings eaten in one minute. As of 2016, Canadian Peter Czerwinski, aka Furious Pete, is the king of dumpling eating with 10 gorged in 60 seconds.
Want more? Check out the fortunate foods to eat during the New Year, 12 lucky things you can do, and everything you need to know about the Year of the Dog.
[Photo: "Pork, cabbage, and tofu dumplings" by Joy via Flickr, CC BY 2.0]