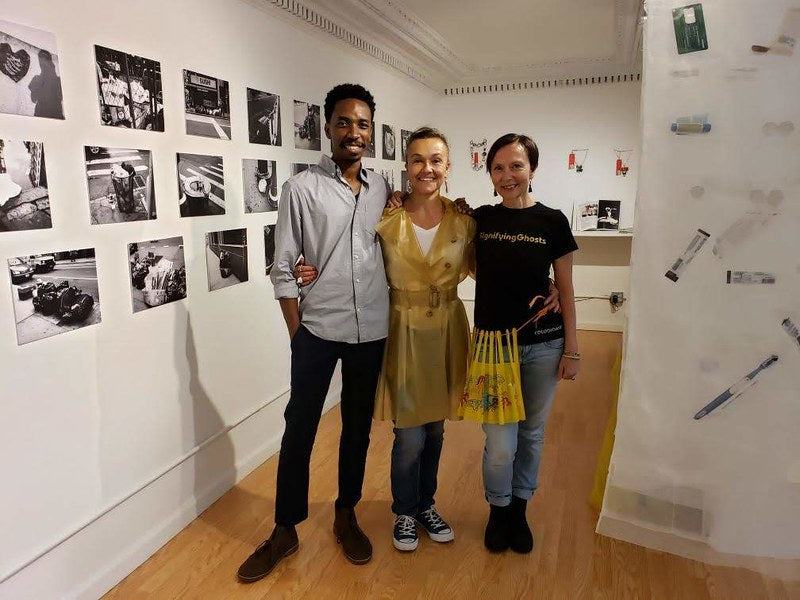 Suzette Gabriel-Schoebitz: From Trash to Treasure: Muong Ngoi, Laos to NYC (Sept. 6–21, 2019)
The world faces a garbage dilemma. Trash threatens to take over, yet we continue to consume. "I am one of millions producing trash daily," says jeweler and activist Suzette Gabriel-Schoebitz. "I do not want to leave my grandchildren such a polluted world."
Instead of letting trash go to "waste," Suzette says, much of it can be repaired, reused, or recycled. Such is the philosophy behind her jewelry collection in her exhibition, FROM TRASH TO TREASURE. It began with pieces her clients no longer wanted. Rather than throw them out, she supplemented them with parts she found in flea markets, second-hand stores, and trading posts — turning others' trash into renewed treasure.
Included in the exhibition were Suzette's hanging "trash calendars." In January of this year, she began to track how much trash she produced with the goal of reducing that amount.
Accompanying the collection and calendars as TRASH IN NYC, a collection of photographs from Alfonso Sjogreen, documenting waste throughout the city.
The photographs served as a reminder of how much we consume, how much waste we produce, and how we often live side by side with what we've thrown away.
During Suzette's opening reception, we were treated with a special "trash mob" performance from the renowned German dance group, CocoonDance, as choreographed by the group's director, Rafael Giovanola-Endrass.
The proceeds of Suzette's collection went to benefit Plastic-Free Nam Ou, which aims to set up garbage collection, recycling, and a disposal system in Muong Ngoi, an idyllic village in Laos which threatens to be overrun by waste from their booming tourist industry.
Learn more about Suzette in our interview with her.