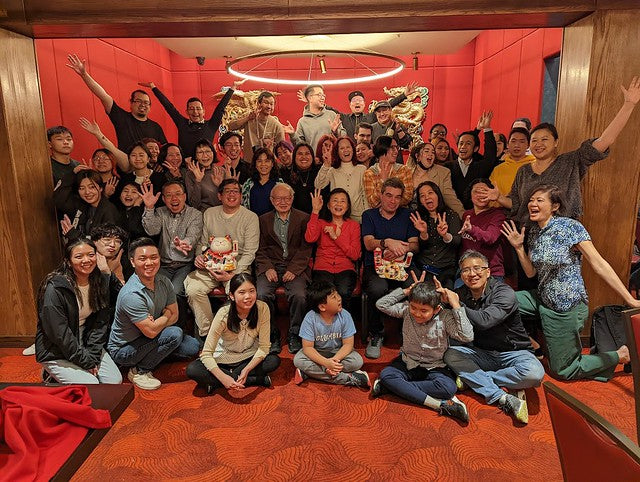 Pearl River in 2022: A Year in Review
It's that time again! Looking back at the year gone by and celebrating some of our favorite moments is a tradition that's become even more significant since that impossible year of 2020. We're grateful each time we're able to do so and are thankful to all who have continued to support, encourage, and cheer us on along the way.
We kicked off 2022 with some 'Essential Ingredients'
The year began with one of our favorite art exhibitions to date, ESSENTIAL INGREDIENTS: A Recipe for Rediscovery by Nancy Pappas. Through gorgeous illustrations of significant foods such as chili peppers, persimmons, and cabbages, Nancy explored aspects of her identity. As an artist and traveler. A midwesterner, New Yorker, and ex-pat. A Korean adoptee and Korean American. The exhibition returned to her roots — those first simple ingredients that come together to make a complex whole.
We roared in with the Year of the Tiger
We had a rip-roaring fun time celebrating the Lunar New Year. First we rang in Lunar New Year Day with an incredible performance from the Wan Chi Ming Dragon Lion Dance Team. Then we held our annual extravaganza at Chelsea Market with more lion dancing from Wan Chi Ming and delicious treats from partner Very Fresh Noodles, featured Pearl River Mart Foods vendors Mao's Bao, Kimbap Lab, Tea and Milk, and Kitsby, and generous sponsors Moshi sparkling waters, Lunar hard seltzer, and Diageo. 
We were also happy to welcome NY1's Roger Clark and CBS's John Elliott to our SoHo flagship and talk all things Lunar New Year. 
Light Up Chinatown lit up Albany — and got some bucks
Manhattan Chinatown's illumination initiative, Light Up Chinatown, paid a visit to the state's capital. It was the first time New York State was celebrating Lunar New Year in the State Capitol, and we were delighted to help design the installation. Spanning a long concourse in the Empire State Plaza, it featured background and fun facts about how Lunar New Year is celebrated all around the world, and honored the work of Light Up Chinatown with strings of the now-signature pink, violet, orange, and gold lanterns, and a display of the original lanterns featuring the hand-painted characters of fu (fortune), he (harmony), and ai (love).
Speaking of this labor of love, earlier this month it was announced that Light Up Chinatown was one of 11 transformational projects that would receive funding from the $20 million that was awarded to Chinatown as part of the NYS Downtown Revitalization Initiative. Long live Light Up Chinatown!
We celebrated one year in SoHo
On May 1, we marked one whole year at our new SoHo location. 
... and forgot about five years in Chelsea Market 😅
And on Nov. 17 we totally forgot our Chelsea Market main concourse store turned five. Happy belated birthday to the Meatpacking District outpost we opened in back 2017 — still feels like yesterday!
We had a festive APAHM Sunset Celebration
With co-host Lunar Hard Seltzer, we partied hard at Chelsea Market for AAPI Heritage Month as we helped launch Lunar's new restaurant collaboration flavors and a slew of emerging and established AAPI brands. There was also plenty of delicious food and drinks to be had from some of our favorite AAPI restaurants and food vendors.
We hosted a two-site art exhibition
As part of the APAHM Sunset Celebration, we hosted a two-site art exhibition, SOFT SOLIDARITY (SoS): Uniting to Protect, Empower, and Heal, at Chelsea Market and our SoHo art gallery. Presented in partnership with the Asian American Arts Alliance and curated by Joyce Yu-Jean Lee, SoS was a group exhibition that explored how Asian American Pacific Islanders as a diverse and varied community can unite in the face of adversity and discrimination. 
It featured women-identifying artists who share a love for contemporary art and traditional craft. Their work delved into the idea of "soft solidarity," a kind of loose unity unconstrained by background, location, or socioeconomic status, and how seemingly contrasting attributes can exist simultaneously and in harmony — softness and strength, pliability and power, delicacy and danger.
The featured artists were aricoco, Suejin Jo, Joyce Yu-Jean Lee, Natalia Nakazawa, Sui Park, and Lu Zhang.
We got 'in the mood'
Inspired by Wong Kar-wai's classic film, "In the Mood for Love," we launched summer and fall/winter attire collections this year, complete with gorgeous shots from fashion photog extraordinaire Pascal Perich and thanks to beautiful inside-and-out models Emilee, granddaughter of Pearl River founders Mr. and Mrs. Chen, and Pearl River creative manager Christine Wong and her daughter Tien. 
We added a slew of new vendors to the Pearl River fam
We were so pleased to welcome several new vendors — many of them small and AAPI owned — to the Pearl River family. Among these were beauty lines Pink Moon, Mount Lai, and Youthforia; Nam Coffee and Nguyen Coffee; Qipology attire from Hong Kong; adorable stickers from Simply MKO; Chaotic Neutral jewelry from dear friend and artist Prisca Choe; Yun Hai Taiwanese dried fruit and cooking ingredients; Momofuku sauces, noodles, and more; Homiah spice kits; pantry essentials from Milu; and more!
We learned to defend ourselves
This summer we kicked off our first in what will be a series of self-defense workshops with non-profit, Asian Defense Alliance. Founded by high school students who wanted make sure their elders felt safe walking on their own, the ADA instructors showed us some basics in self-defense and gave us a really good workout to boot!
We 'drew together' with Chinatown community members
Our last art exhibition of the year came from graphic designer Sammy Yuen and featured his beautifully detailed illustrations of historic Chinatown businesses, landmarks, and organizations. We loved partnering with the Mott Street Girls and Asian American Arts Alliance on DRAWN TOGETHER, and hope it's the first of many collaborations. 
We honored dear friend and neighbor, Anne Saxelby
Anne Saxelby, the owner of Saxelby Cheese in Chelsea Market, passed away suddenly last year at 40. In her honor, her husband founded the Anne Saxelby Legacy Fund, a non-profit organization that provides month-long paid apprenticeships for young adults to live on sustainable farms — to work, learn, and be inspired to create change in their communities.
We were so honored to be able to participate in this special evening, and to be able to share delicious treats from Pearl River Mart Foods vendors, Mao's Bao, Kimbap Lab, Tea & Milk, and Kitsby, and our own creative manager, Christine Wong.
We hosted the launches of two amazing books
Not only are Beautiful Country by Qian Julie Wang and The Woks of Life cookbook two of our favorite books this year, we had the honor of hosting their NYC launches! 
We helped Chelsea Market celebrate their 25th anniversary
With a carnivalesque street fair theme, Chelsea Market celebrated their 25th birthday, and we had a blast joining in on the fun with our own booth with snacks and prizes.
We hosted some fun and delicious tastings at Pearl River Mart Foods 
Thanks to our vendors, we were able to offer tastings this fall at Pearl River Mart Foods. Much appreciation goes to 50 Hertz, Culture Kitchn, and Recoup for offering tasting samples. 
We soft-launched our new Pearl River Mart Foods Little Eats 小吃 booth with Shorty Tang & Sons
In December we soft-launched our "substantial snacks" booth in Pearl River Mart Foods, Little Eats 小吃. Popular among Chinese communities throughout the world, little eats or xiao chi are hearty snacks that can be eaten as nibbles between meals or as meals themselves. Our Little Eats 小吃 stand will feature a rotating variety of Asian treats, the first of which was noodle dishes from Pearl River Mart Foods vendor Shorty Tang & Sons, a small AAPI family-owned business based in New Jersey. Shorty Tang & Sons will be back on Jan. 7! 
We got through another busy holiday season
Finally, we survived another holiday season! In addition to getting out your holiday orders and welcoming into our stores even more customers from all over the world, we launched our second annual chili box and revamped our gift card! Now instead of separate cards for online and in-store purchases, you can use our gift cards for either — both! — at any of our locations.
From our family to yours, here's to happy, healthy, and hopeful 2023!