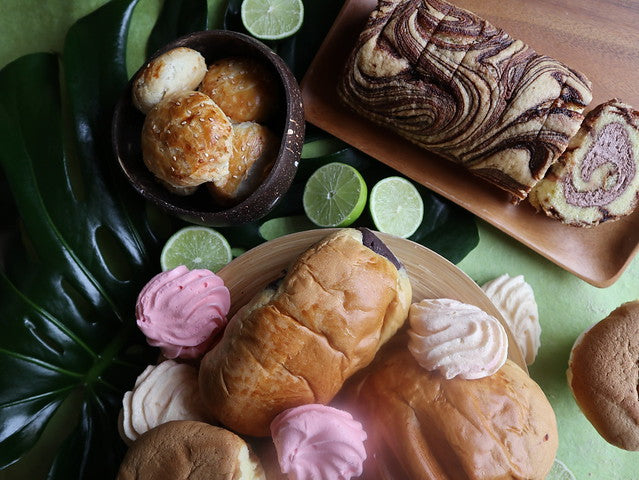 A Brief Guide to Filipino Breads and Pastries
Our food shop in Chelsea Market, Pearl River Mart Foods, has lots to offer in the form of yummy Asian treats. Bao, kimbap, bubble tea, chili oils, and much more. But did you know it's also the only place in Manhattan where you can Filipino breads and pastries?
The Philippine Bread House is a longtime New Jersey bakery that was founded by Elma Santander. Ms. Santander immigrated from the Philippines in the 1970s and wanted a way to introduce her native country's yummy baked goods and other treats to Jersey City residents. Now New York City residents and visitors can get to know them too. Here's a brief (yet delicious) guide.
Bibingka Cassava
Sweet and coconutty, this chewy cake is made with cassava or yuca root rather than flour.
Ensaymadas
These brioche-like breads are sweet and smeared with butter, sugar, and cheese flakes. They may be filled with coconut or ube (a purple yam).
Hopia Hapon, Mongo, and Baboy
Similar to mooncakes, hopia come in a variety of flavors, such as hapon (red bean), mongo (mung bean), or baboy (winter melon infused with pork fat).
Kutchinta
These soft and chewy steamed cakes are made with tapioca flour and brown sugar, and topped with grated coconut.
Mamon
You know we love spongecake, and light and fluffy mamon is one of our favorites.
Monay Bread
This dense roll is a classic staple.
Mongo Bread
This bread contains mongo or sweet mung bean paste.
Pan de Sal, Coco, or Lemon
The unofficial national bread of the Philippines, Pan de Sal is a sweet staple bread perfect with just a pat of butter. Pan de Coco includes a sweetened grated coconut filling while Pan de Lemon is flavored with lemon (and no filling).
Pianono
A buttery and sweet sponge cake roll named for Pope Pius IX or "Pio Nono" in Italian. May be filled with chocolate, ube, or other flavored cream.
Puto Galapong
These soft and sweet steamed rice cakes are made with coconut milk and a smooth batter called galapong.
Puto Cheese
Made with regular flour, these steamed multi-color cakes are sweet and topped with cheese.
Suman Malagkit White Rice
A sweet sticky rice infused with coconut milk. Just heat it up in the microwave for about 30 seconds. Makes the perfect afternoon snack!
Ube Bread
Rolls with purple yam flavoring. 
Is your mouth watering? Head on over to Pearl River Mart Foods located on the lower level of Chelsea Market, open every Wednesday through Sunday from 11 a.m. to 7 p.m.